In this article, we will tell you everything about the best activities to experience in Iceland! From Glacier hikes to Whale watching, those unique experiences surrounded by beautiful sceneries can only be lived in Iceland.
ATV/Quads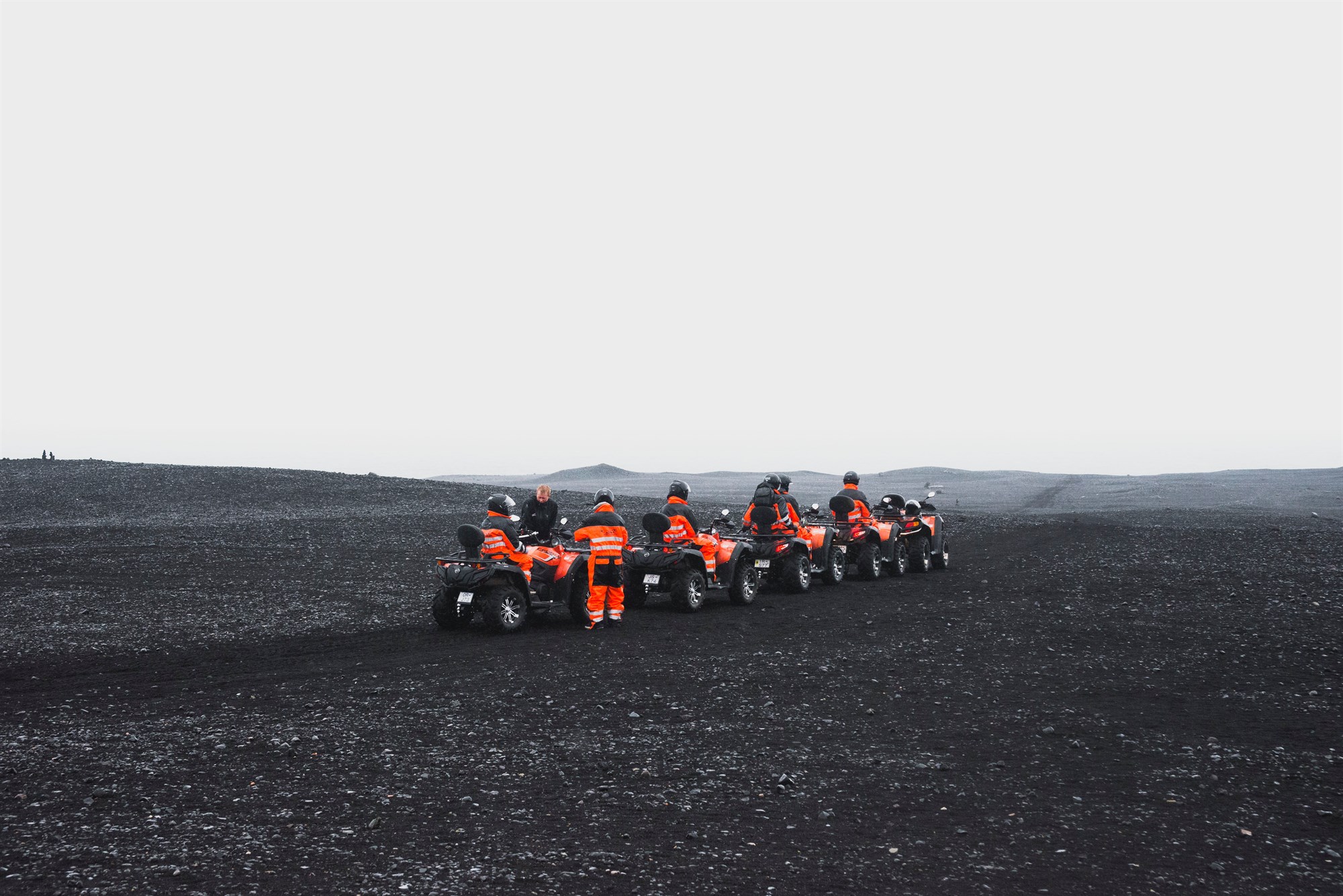 Photo: Bailey Zindel
Wild terrain, open fields, breathtaking landscapes: Iceland is the perfect playground for ATV tours. 
The ATV tours combined with Iceland's terrains will give you a good dose of adrenaline and excitement. This experience will allow you to enjoy a full 360-degree view without any obstructions. Indeed, Iceland offers some of the best sights and conditions for ATV tours in Europe. 
There are endless trails and paths throughout the country, whether you want to discover mountains, lava fields or black-sand beaches, ATV tours will allow you to experience it in the best way!
Often ATV tours are combined with other tours such as caves or sites visit! The perfect combo to discover while having fun. 
Blue Lagoon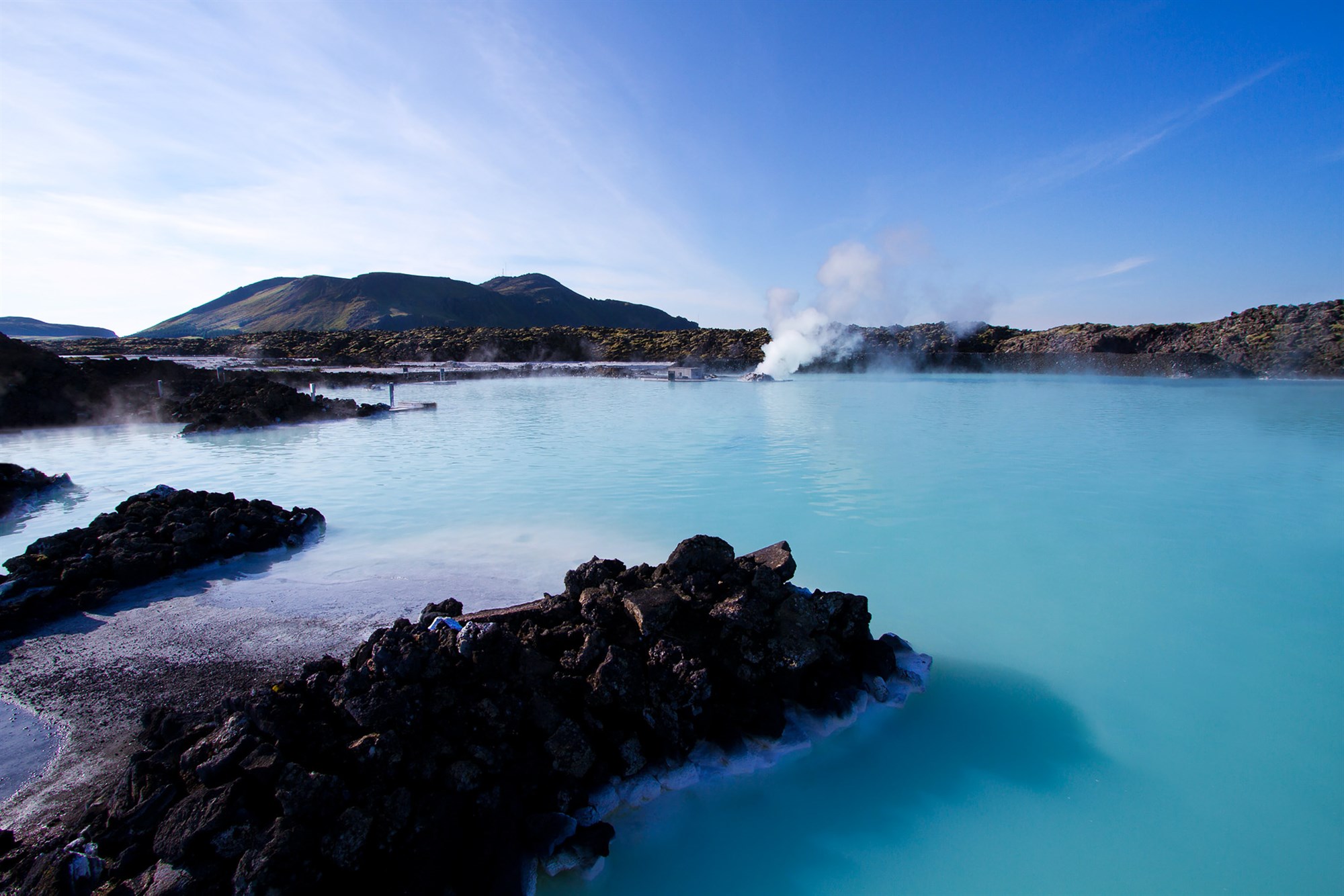 Photo: Frank Denney
An otherworldly wonder in the heart of a volcanic landscape. 
The Blue Lagoon is one of Iceland's jewel. The beautiful milky-blue water is unlike anything else found on earth. This particular colour is due to active ingredients: natural mineral salts, white silica and blue-green algae. The contrast with the surrounding black lava fields and grey moss makes the place special. The water sits at 39°C (102°F) year-round, making it the perfect bathing temperature through the seasons.
Visitors also have access to a sauna with a view on the lagoon, two steam baths, as well as the bar, literally placed in the water. Visitors bathing in the lagoon's milky water can enjoy the famous white silica mud, which works miracle for the skin. This is a unique experience in a beautiful scenery.
Check out our tours including a transfer to Blue Lagoon: Golden Cirlce and Blue Lagoon, Geldingadalur Volcano eruption, Private Reykjanes Tour.
Diving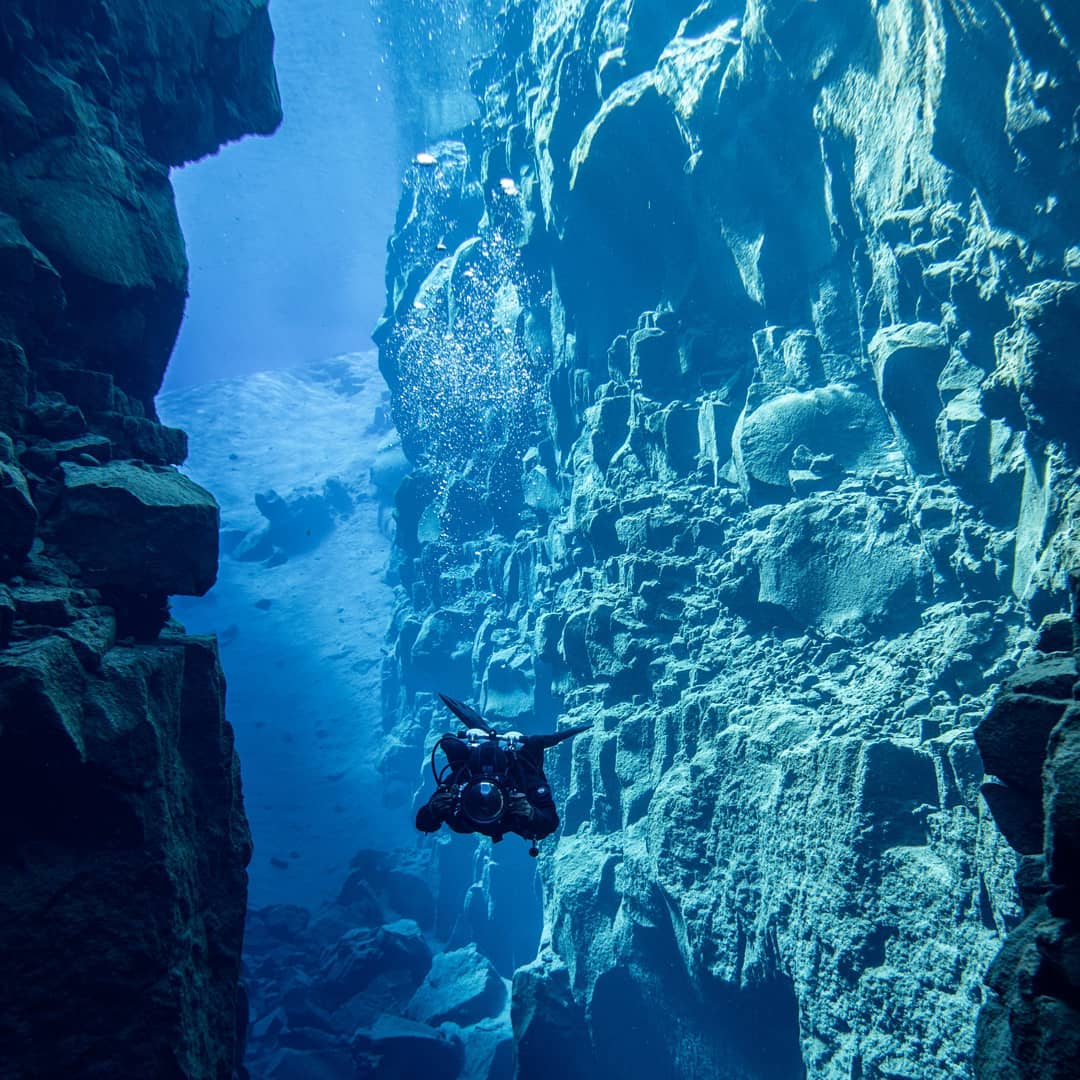 Photo: Arctic Diver
The underwater world in Iceland offers a unique experience. Not only breathtaking sceneries on the land or from the sky, you can also discover the country's jewels while diving. 
Put on the dry suit we provide and dive with us between the continents, in the Atlantic Ocean or in geothermal superheated water. The country is also known for its crystal clear water from the glaciers and volcanoes. The views are breathtaking and the experience will exceed all expectations. Silfra in the Thingvellir National Park is the most famous and beautiful of all, with a crystal clear water known as one of the clearest water in the world. 
For your information, the diving tour is available for people with PADI license (or equivalent). If not, you can participate in a Snorkelling tours.
Horseback riding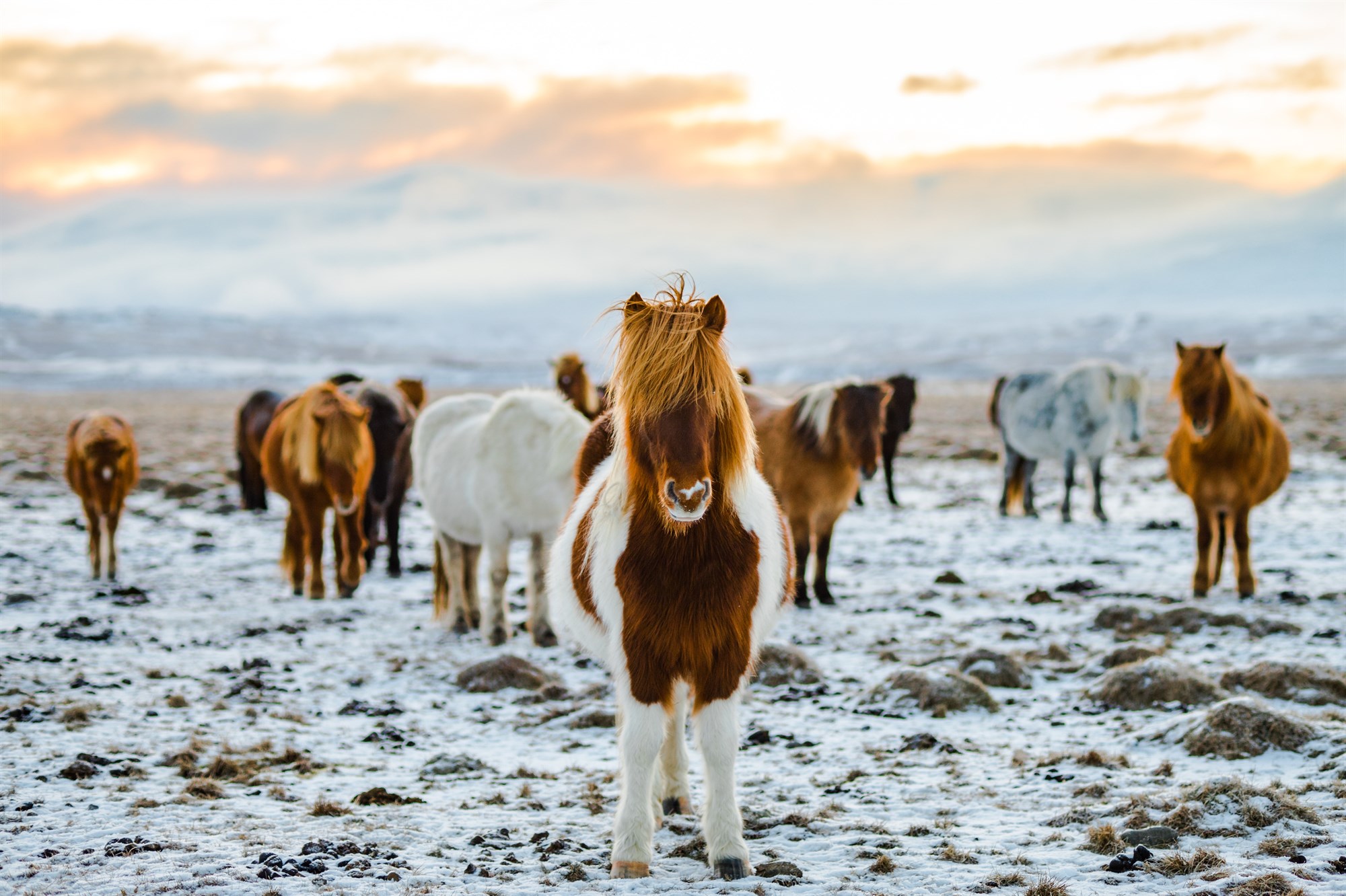 Photo: Redcharlie
Horseback riding is an exciting authentic adventure that you should experience in the country. The Icelandic horse breed has unique characteristics, its humble size and his thick mane of hair being the most noticeable. 
Natural selection played a role in its development. Indeed, horses had to adapt to harsh conditions during the winter in Iceland. That's why today, they are small but strong and tough. 
The Icelandic Horse is also unique since it is the only horse breed in the world that can perform five gaits (ways of walking), making it even more special. In addition to the typical gaits of walk, trot and canter, it is known for its ability to execute two additional gaits, the tölt and the flying pace.
Horseback riding is another way to discover the wild nature of Iceland. It's a peaceful experience allowing you to share a unique moment with the animals. 
Ice cave into a glacier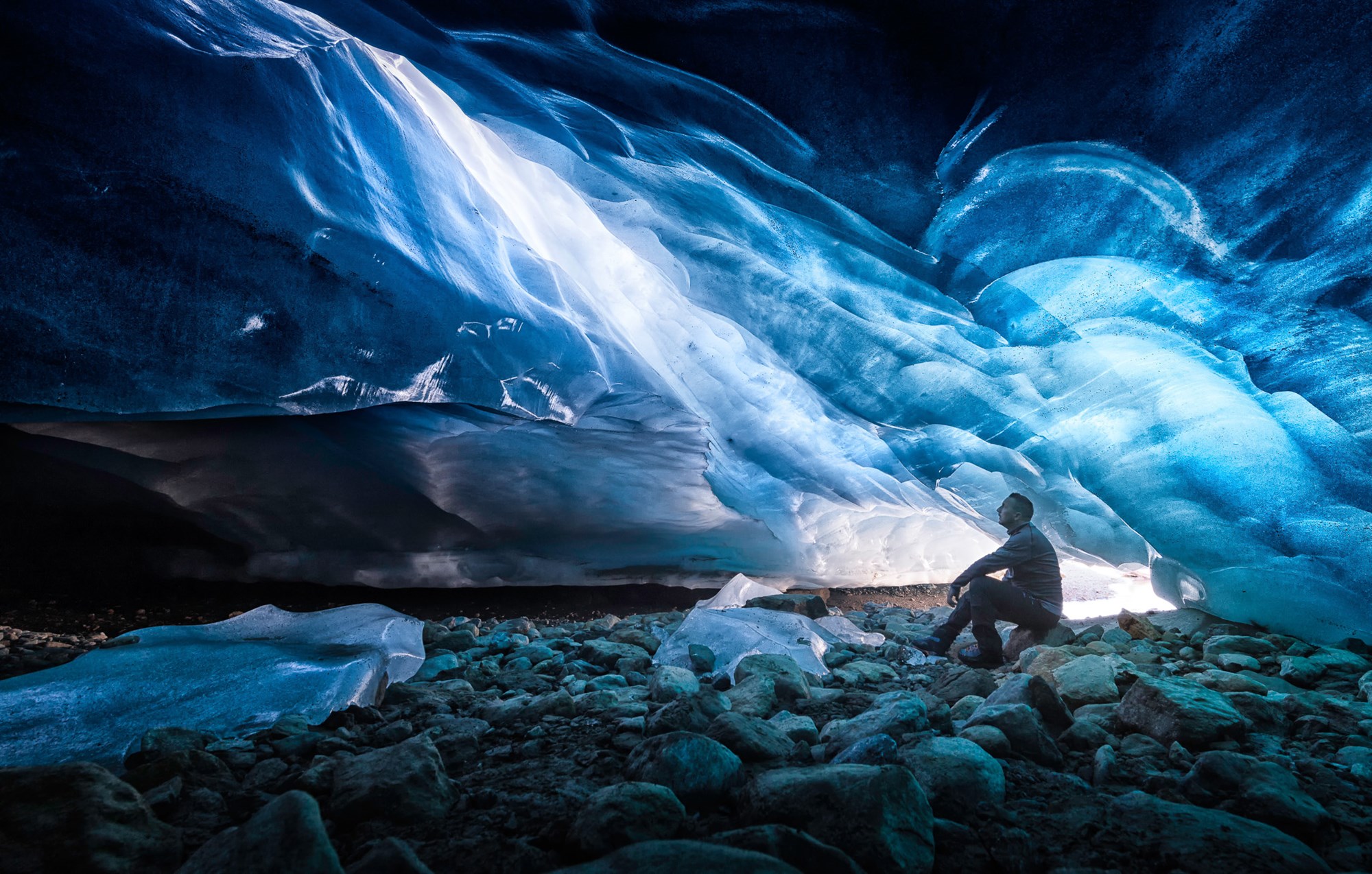 Photo: Mattia Crasti
Iceland is a top destination to explore glaciers since about 11% of the land area is covered by glaciers. In the country, you can visit glacier ice caves during winter. 
Ice caves are a natural phenomena that form in glaciers during winter, from mid-October until the end of March. Most often, they are formed by water flowing through or under the glacier. Every year, new caves are formed, making them look completely different depending on the season or the year.
Usually, they are not so easy to reach, since they are well preserved and exclusive. Most of them can only be found in the East and the South parts of Iceland. Since the forms and shapes of the ice caves change from year to year, the guide experts search for them at the very beginning of the winter season to then bring you to these breathtaking wonders. The feeling when you are inside a living glacier is indescribable. This experience is unique and the colours and history hidden in the ice caves are incredible. 
Visiting a natural ice cave is truly a once-in-a-lifetime experience, especially since the glaciers are melting because of climate change. Consequently, every year, the time frame to visit one is getting smaller. Don't wait to enjoy it!
Glacier hikes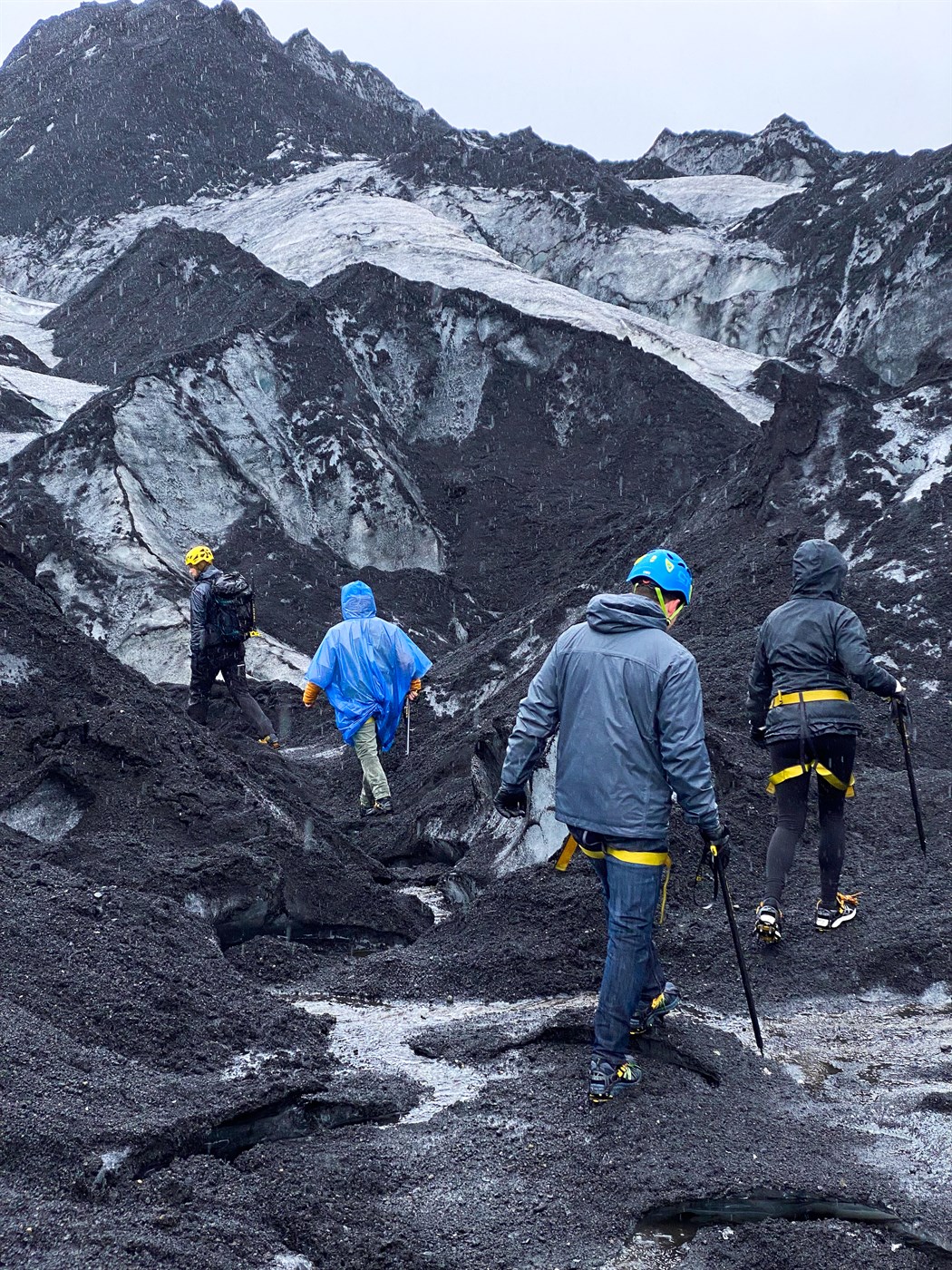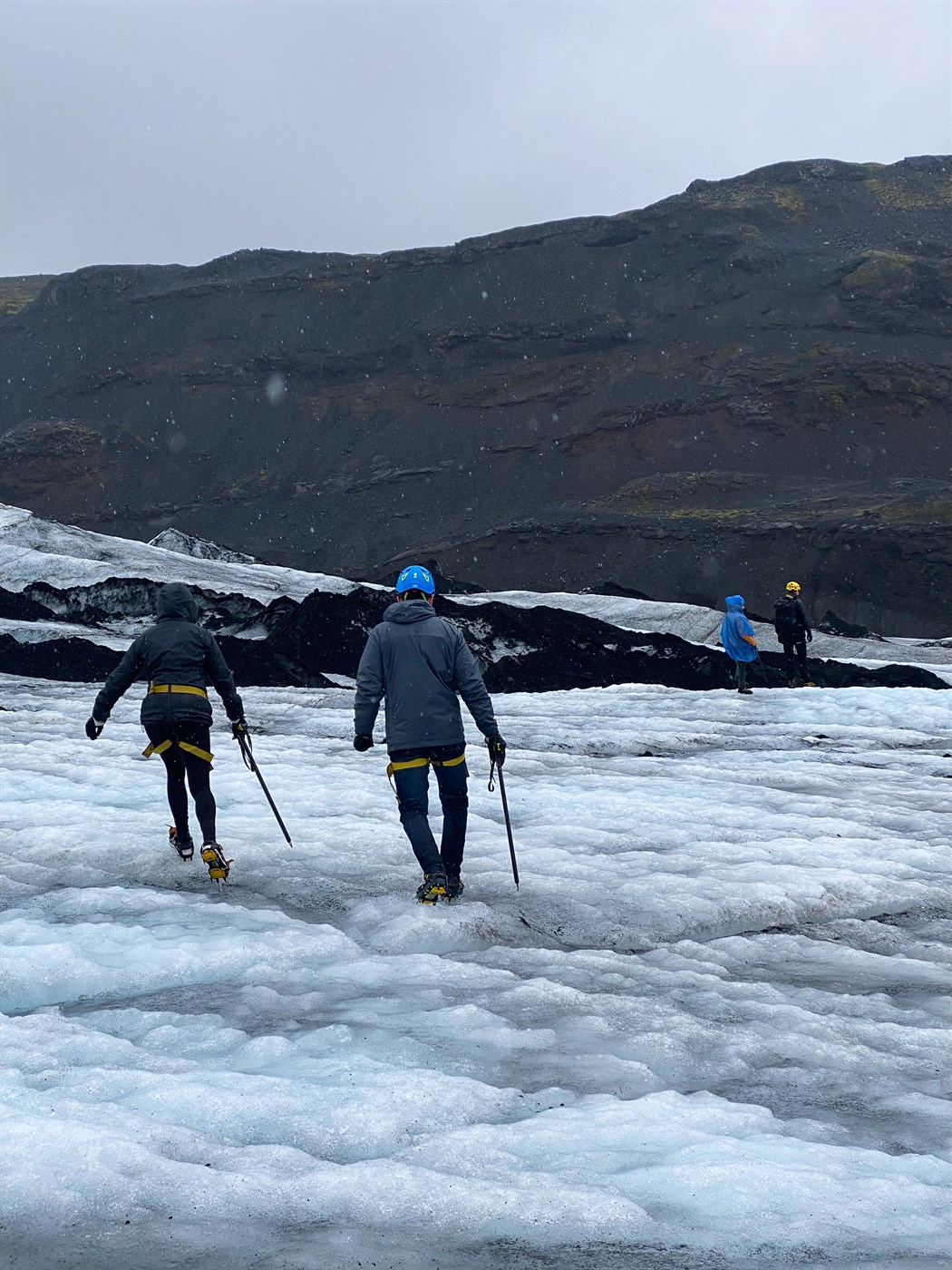 Hiking a glacier is definitely a unique experience. It's an adventure that you can discover all year-round in Iceland! Deep crevasses, ice sculptures and water cauldrons awaits discovery. The shades of glacier ice will amaze you with spectacular colours: white, blue, crystal clear colours. Consequently, you'll have plenty of photo opportunities.
If you go on a glacier hike with ice climbing, you'll have the chance to conquer the walls of Iceland's magnificent glaciers! Since glaciers are made out of very dense ice, that doesn't melt away during summer. Consequently, ice climbing on a glacier is practiced year-round. During winter, you can also experience ice climbing on frozen waterfalls! With expert guides and good climbing equipment, the experience is actually a lot easier than it looks! You'll reach the top easily. 
No technical skills are needed for those glacier activities since it is suitable for everyone. You will be provided with all the necessary glacier walk equipment. Such a nice way to discover the icy wonderland! 
You can experience a Glacier hike on a South Coast adventure tour with us!
Inside the volcano
The surreal landscapes of the land of Fire and Ice will transport you in another world: inside the volcano. A unique experience around a natural phenomenon, opening the doors to a new world.
This one-of-a-kind adventure you can only do in Iceland is literally a journey to the center of the earth. The dormant Thrihnukagigur volcano is the only place on earth where humans can visit this huge volcanic magma chamber. You will experience what it's like to be inside a volcano, from the top crater to the bottom of the magma chamber. Once filled with lava, you can now admire the magnificent colours of the chamber walls of the volcano.
Thrihnukagigur volcano last erupted over 4000 years ago. It's located approximately 30km from Reykjavik.
Warm clothes are highly recommended.
Lava Cave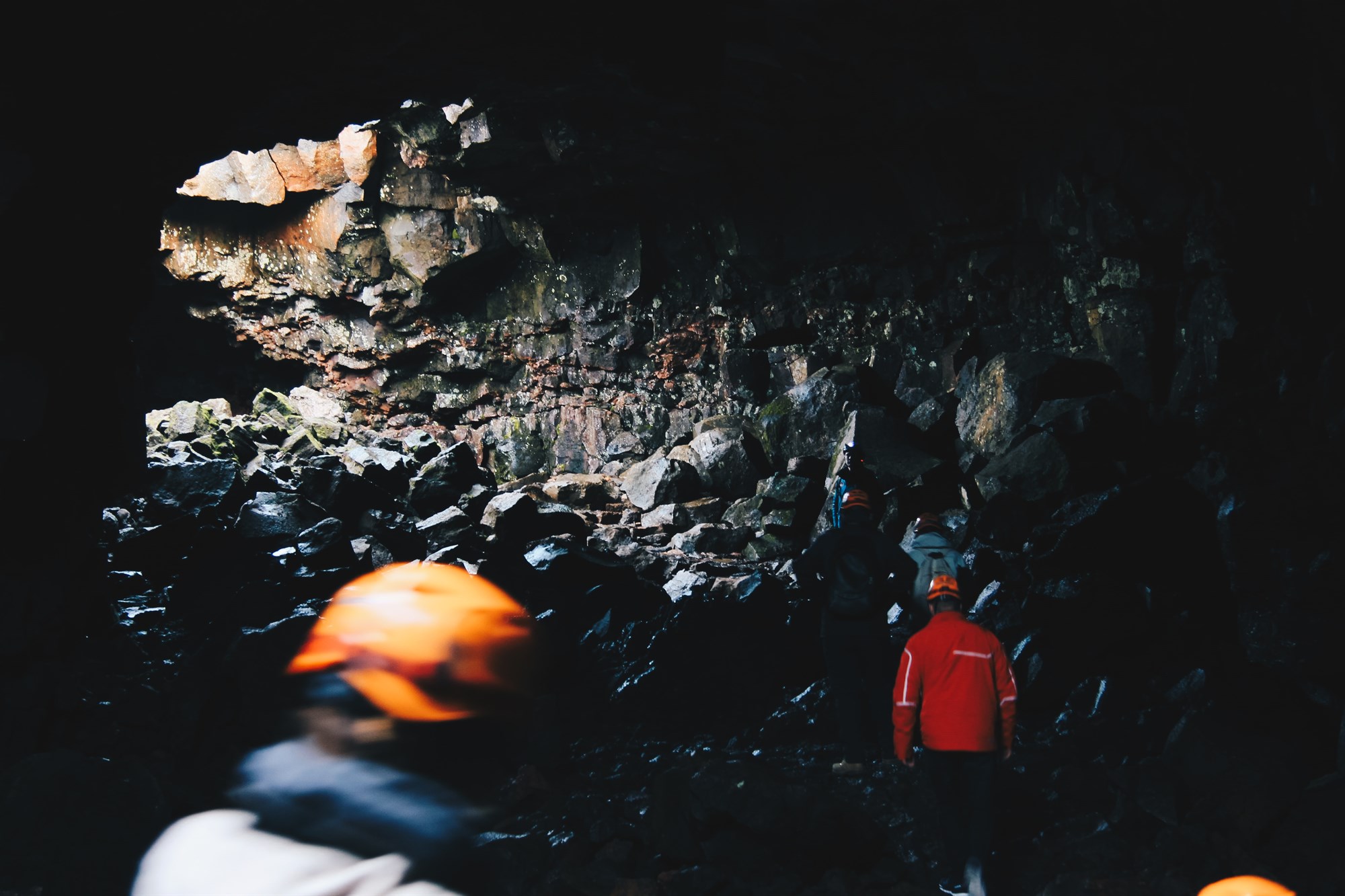 Photo: Ruslan Valeev
There are approximately 130 volcanoes in Iceland, active and inactive. Consequently, there are endless caves and tubes of lava formations under the volcanic landscape of Iceland.
It is a unique experience to visit a lava cave. Many lava tubes from the volcanoes have turned into caves and some craters have cracks revealing hidden caves. They are of all sizes and shapes, and some of them have hot springs situated within. 
Despite the darkness of the cave, your headlight will allow you to discover the ice formations, the stalactites, and the surprisingly beautiful rock formations and colours on the walls and insides of the caves. This type of experience will make you feel like time doesn't anymore, it's like visiting another world. 
Good shoes are recommended. 
Kayaking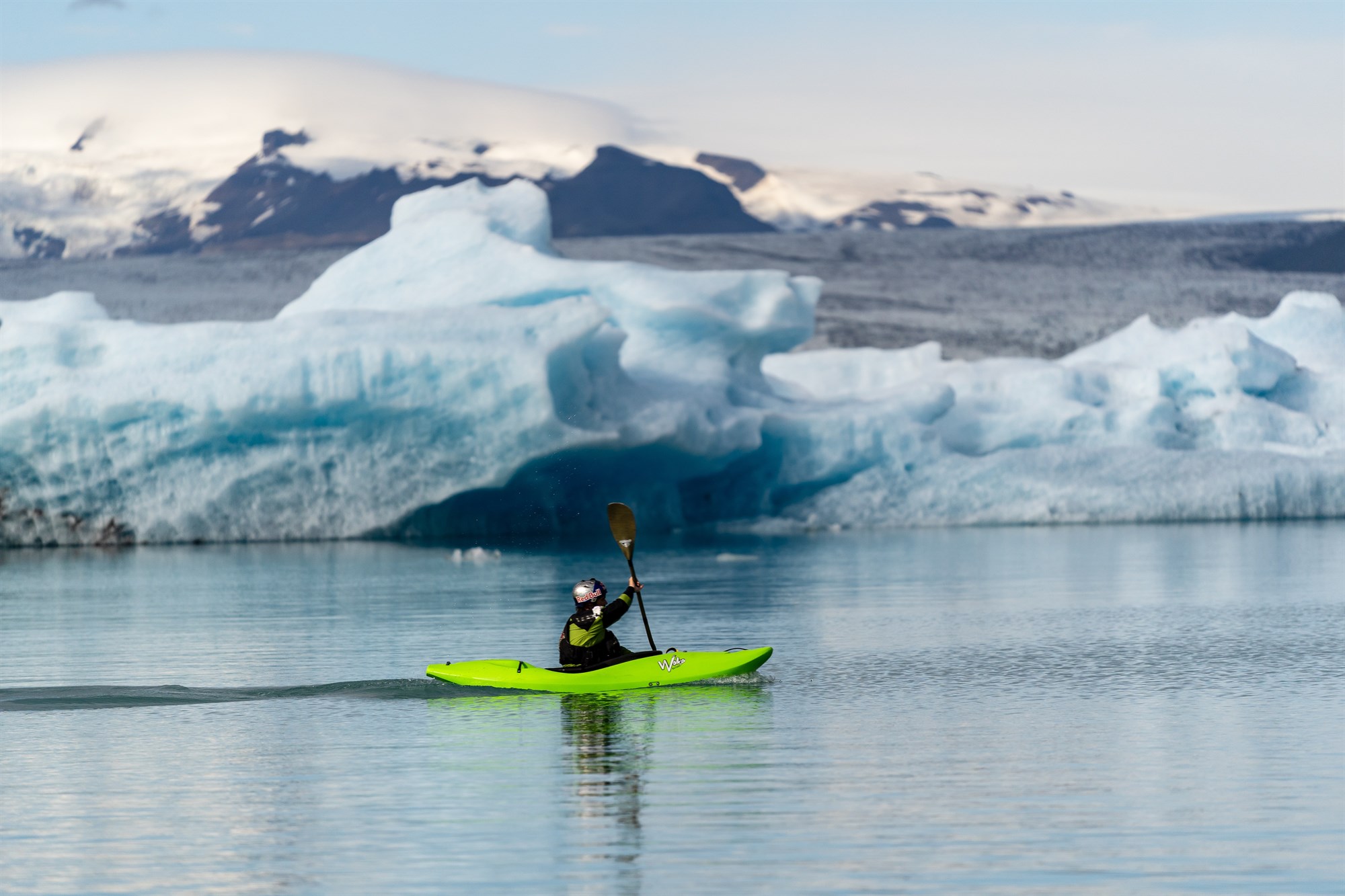 Photo: Boopathi Rajaa Nedunchezhiyan
Looking for something different to do in Iceland while experiencing stunning sceneries? You should definitely try kayaking.
The country is well-regarded as one of the most planet's most scenic countries, characterised by its sweeping glaciers, ice-berg filled lagoons, black sand coastlines and domineering smoky mountains. Kayaking only adds to the incredible experience of soaking in the Icelandic countryside. 
Iceland is considered one of the most picturesque countries on the planet, characterised by its natural wonders, glaciers, black sand coasts, volcanoes and glaciers lagoons. When you experience kayaking, you can discover the landscapes of Iceland from a different perspective.
On wildlife tours, kayaks will allow guests to get close up with some of Iceland's more famous animals: seals, eider ducks, Atlantic puffins and many more. 
From glaciers lagoon to the fjords, kayaking in Iceland is a unique experience; there are few places in the world where you can kayak with such surroundings. 
Northern Lights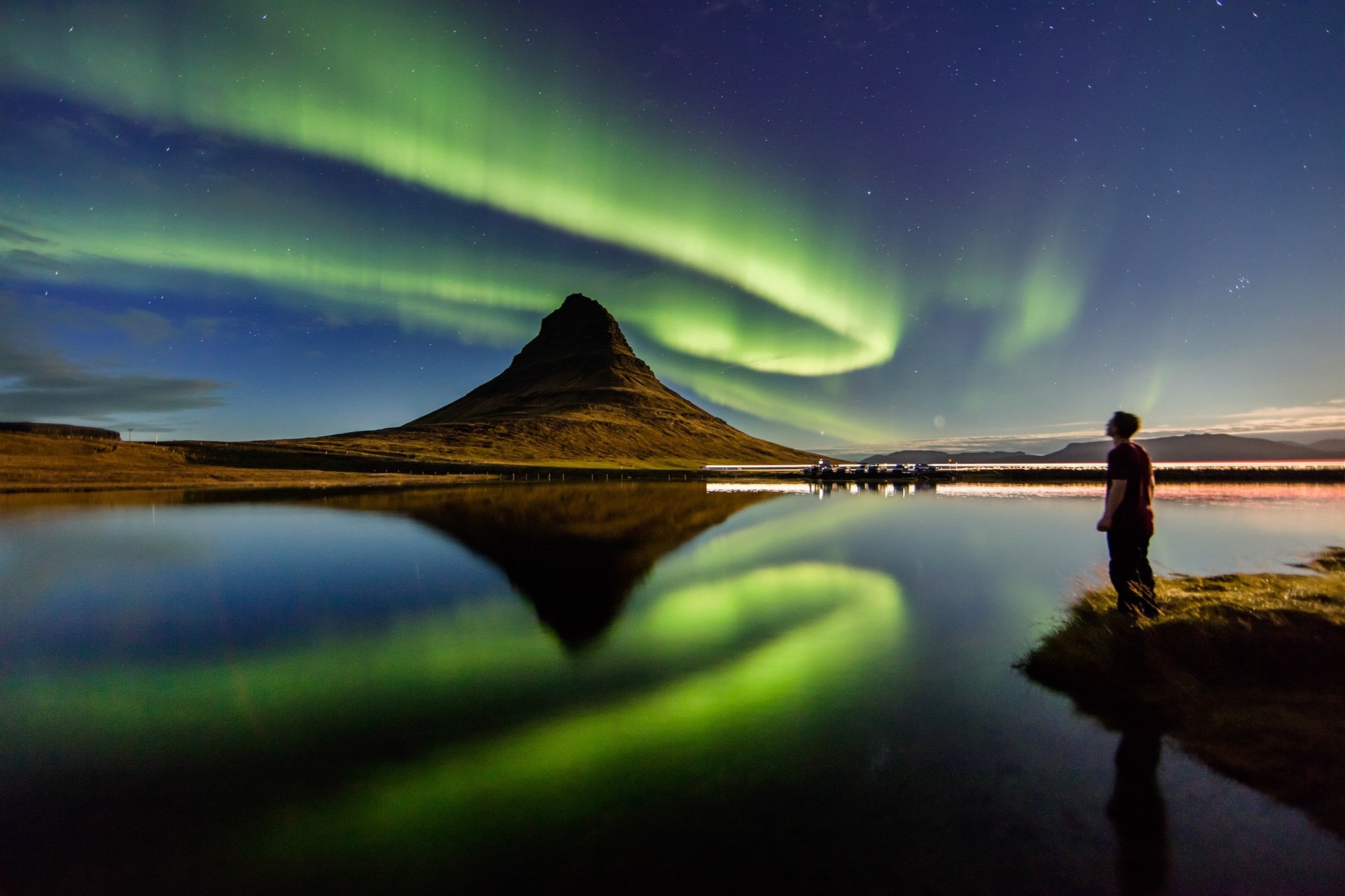 Photo: Joshua Earle
It's hard to describe the feeling when you watch the Northern Lights dancing in the sky. It is definitely an experience of a lifetime. 
Though the Northern Lights are omnipresent in Iceland's skies, they are only visible under certain conditions, with enough solar activity and at certain times of the year (from September to March). However, keep in mind that Iceland has only two to four hours of daylight in the middle of winter. Thus, this season offers endless opportunities to hunt one of nature's greatest wonders.
Enjoy this unique experience to discover a beautiful scenery: Iceland's under a blanket of snow and Northern lights in the sky.
You can chase Northern Lights with us in one of our tour! Northern Lights hunt in a sGolden Circle, Secret Lagoon and Northern Lights, Atv and Northern Lights, 9 days Northern Lights Winter Vacation Package
Snowmobiling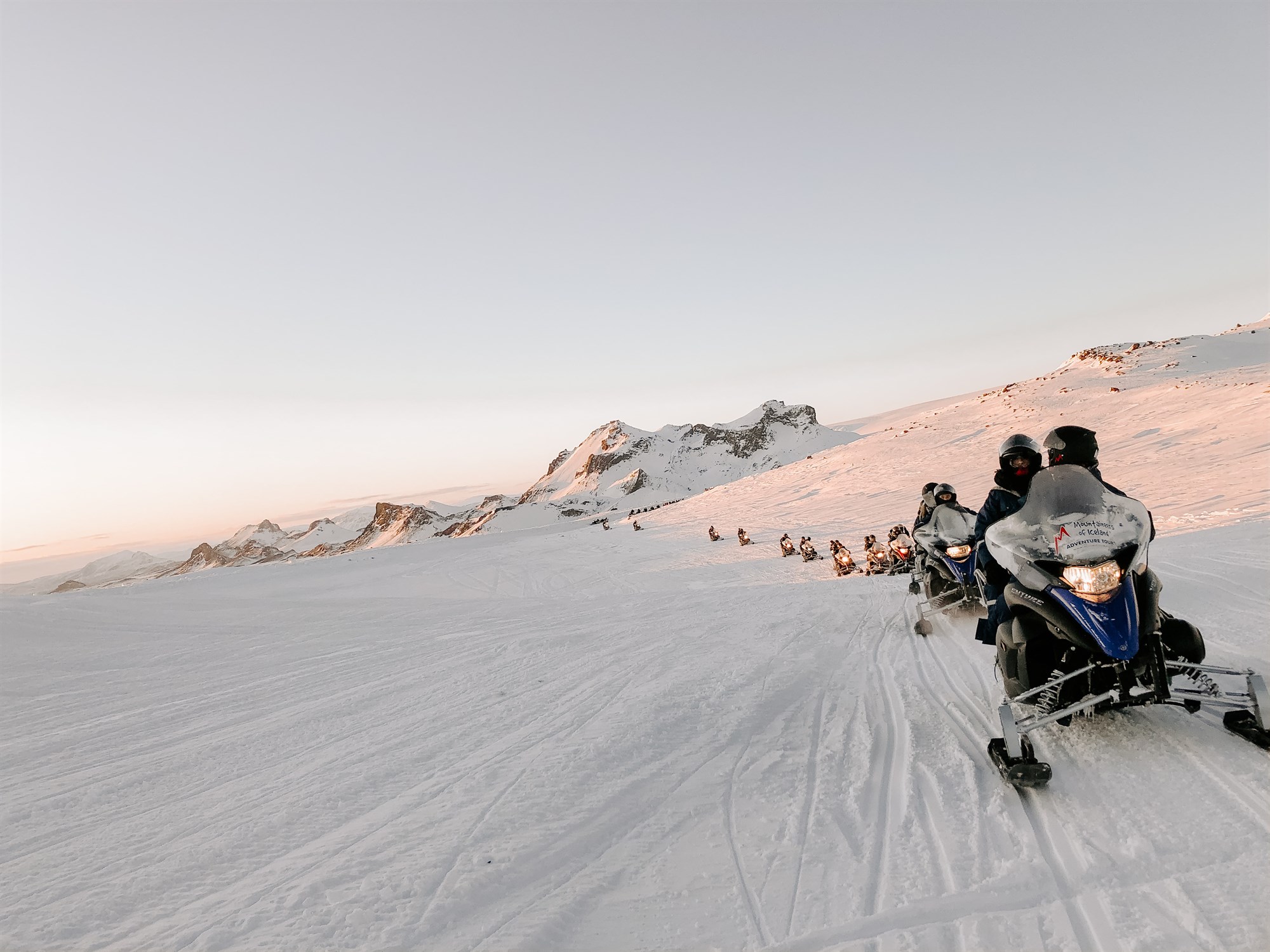 Photo: Marketwake
Want to experience a truly authentic adventure? Snowmobiling is perfect if you like speed, snow and thrills. 
Snowmobiling in Iceland is an adventure you won't forget. Indeed, it is one of the few countries in the world where you can experience snowmobiling on the surface of a glacier, surrounded by mountains and snow. You can even do it on top of active volcanoes, as most of them are covered by ice.
Since 11% of the country is covered by glaciers, there's plenty of space to play for a snowy adventure. Moreover, thanks to the abundance of glaciers in Iceland, snowmobiling is available year-round! No need to wait for winter; it is equally amazing during summer and winter. The view from the glacier over the nearby highland is absolutely breathtaking. 
Snowmobiling is the perfect way to have fun. Only a valid driver's license is required to participate.
Sky Lagoon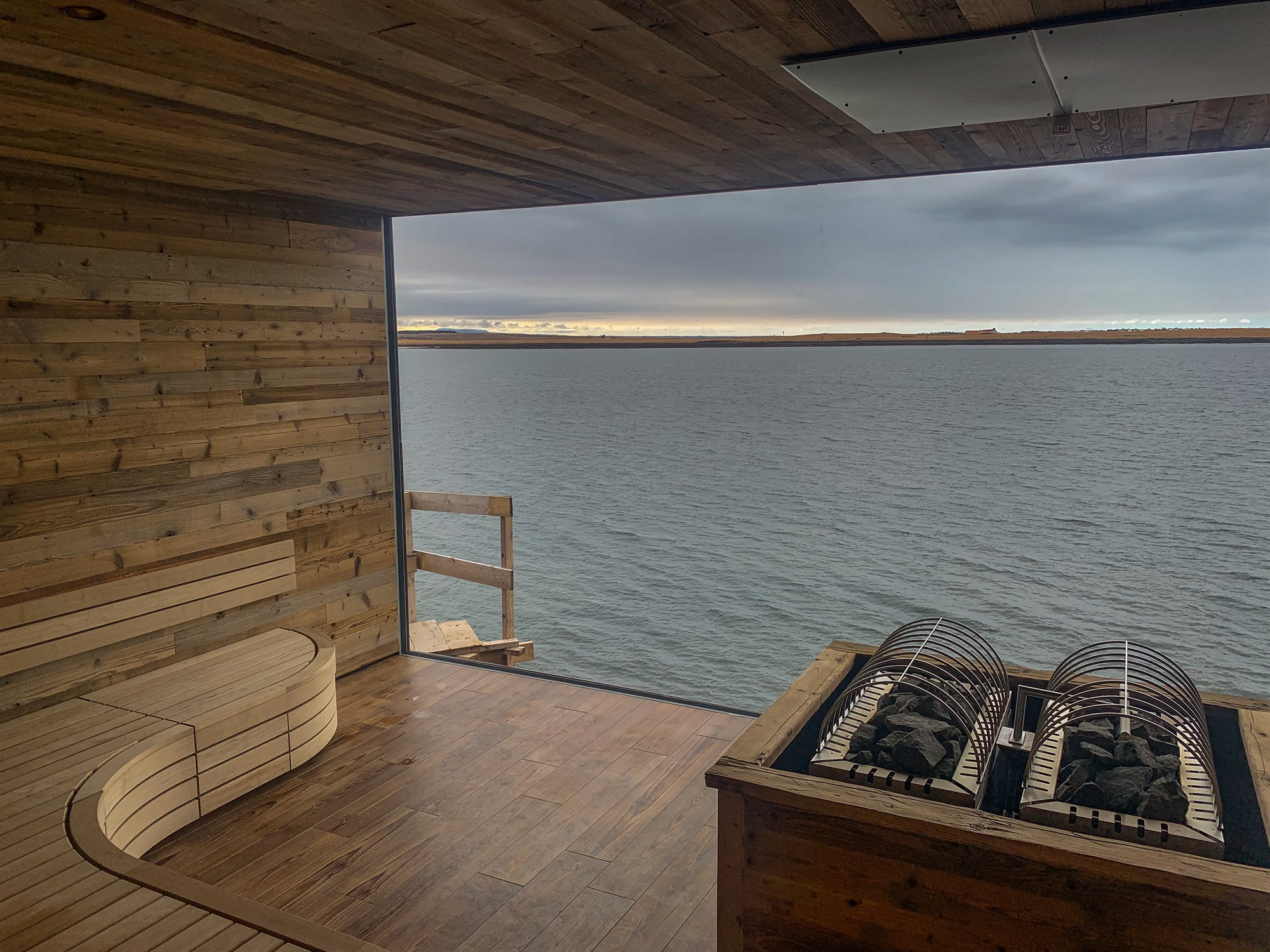 Sky Lagoon, an escape to paradise where the sky meets the sea near the capital city.
This is the perfect place to relax, located only a few minutes away from downtown Reykjavik. The atmosphere there is indescribable. The warm geothermal water of the lagoon perfectly balances the outside weather. It's like being in a luxurious Icelandic hot spring surrounded by nature: dark grey rocks, greenery, steam, and even a waterfall; all the features of Iceland.
The infinity edged pool offers a beautiful view of the ocean, making it look like the it's just an extension of the pool. There, you can enjoy the 7 steps ritual: the lagoon, the cold plunge, the sauna, the cold fog mist, the home-made sea-salt scrub, the steam room, and the lagoon again for completely relaxed mind and body. 
The place is perfect both for midnight sun during summer and to witness northern lights during winter.
To learn more about Sky Lagoon, check out our article. If you want to experience it with us, check out the Golden Circle and Sky Lagoon tour. 
Whale Watching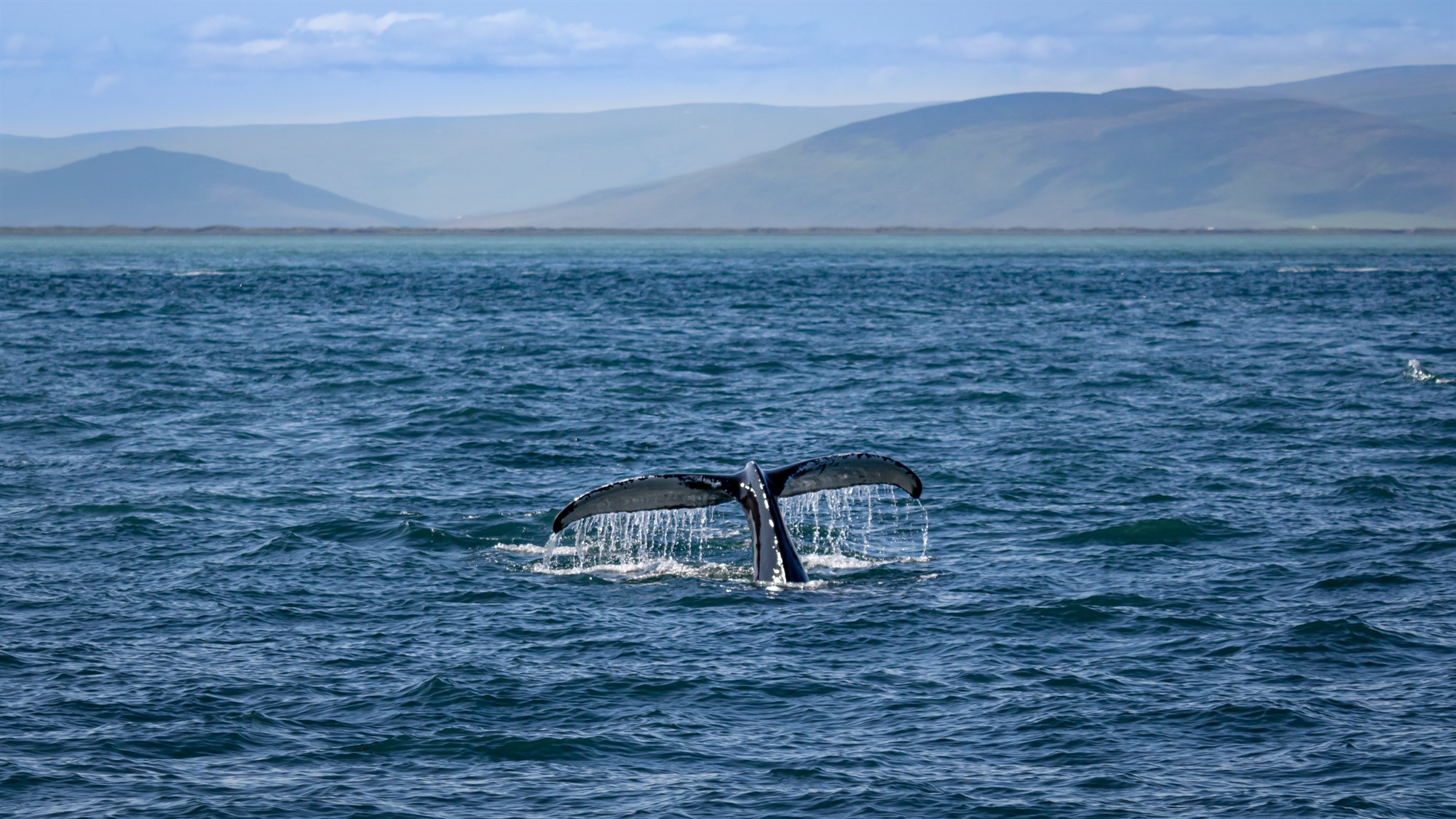 Photo: Michael Behrens
Over time, Iceland has become one of the world's best whale-watching destination since its unique geography creates a pleasant environment for whales. 
Cold currents from the icy polar waters and warm currents from the underground layers move through the island's waters and mix near the fjords, creating a pleasant environment for whales.
There are around 24 whale species off Iceland's coast. It's possible to see both permanent and migratory species, including blue whales, the largest mammals on Earth. The most common sights are white beaconed dolphins, minke whales and harbous porpoises. If you are lucky, you might spot orcas, sperm whales or the great humpback whale. During summer, you might also see Atlantic puffins, the famous lovely bird of Iceland.
You can watch whales splashing around year-round, either during winter under the Northern Lights or illuminated by the midnight sun during summer. However, the busiest season in Iceland is during summer, especially from June to August. 
And that's it for our top activities to do in Iceland! Let us know what you thought about the article or if you already experienced these activities on our Facebook and Instagram pages!