You've probably heard about the newest volcano of Iceland: Fagradalsfjall. The eruption began on the 19th of March, the first move made by the dormant volcano in 800 years. It is situated on the south side of a mountain called Fagradalsfjall, less than an hour drive away from Reykjavik. 
It's been almost two months already, and the volcano keeps on erupting for a spectacular show! Nonetheless, the volcano has evolved a lot. At first, some fissures appeared after months of earthquakes. At the end of March, the activity was concentrated at two adjacent vents of a growing cone in the central part of the original eruptive fissure. They were filled with spectacularly boiling lava that flowed away to form thin flows that overlaped on a growing lava field, that began slowly to fill the Geldingadalur valley. One week later, in April, three more fissures opened. Mid-April, there were a total of 6 fissures in the valley, with a giant lava field already. At the end of April, the eruption from Fagradalsfjall continued with little changes. Fluid lava was erupting from several vents along 3 fissure segments, which slowly formed growing shields piling up in the valley floors.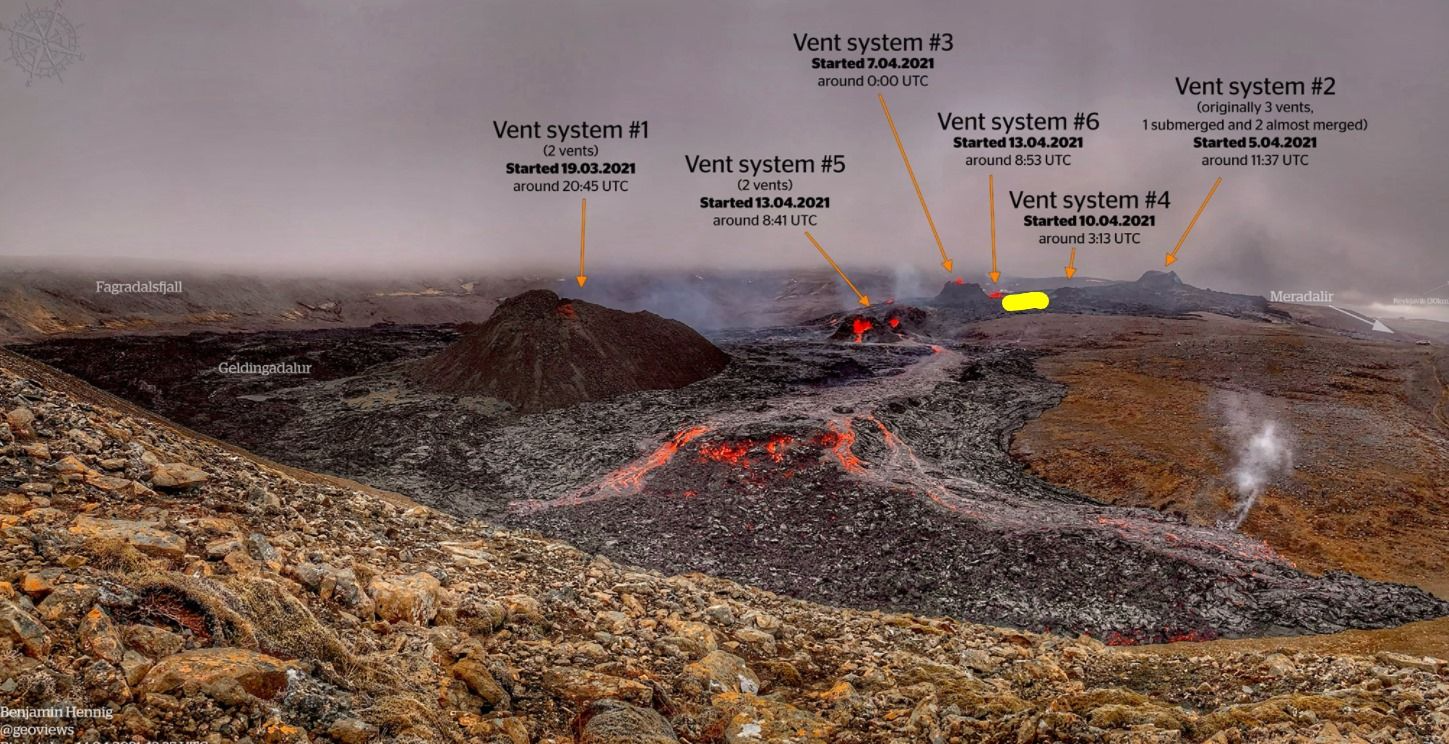 (image: @Icevolcanx/twitter)
Now - beginning of May - the volcano is totally different from how it looks two months ago. The central vent (the fifth one, #5) is the central part of the fissure system with huge lava fountain ongoing. The eruption continues with pulsating short-lived lava fountains at regular intervals. The intervals changed recently from a rhythm of approximatively 10 minutes to half an hour, but the height reached by some lava jets surpassed 400 meters, the Icelandic Met office (IMO) reported. It is very impressive to see it from close - you can even feel the heat of the lava!
According to Þorvaldur Þórðarson, professor of volcanology, the eruption has entered a phase of being more volatile, and despite the apparent calmer phases in between the more active ones, it is not clear whether this suggests it is in decline or increase. Let's hope that the show will keep on going! 
When it's getting dark, we can see the spectacular footage of lava fountains from Iceland's capital, Reykjavik.
• You can still book our volcano tour to see it! 
• Follow us on Instagram and TikTok to see more content of the volcano: @reykjaviktourist
Sources: https://www.volcanodiscovery.com/fr/reykjanes/crisis2021/current-activity.html
Icelandic Met Office volcano activity update 3 May 2021