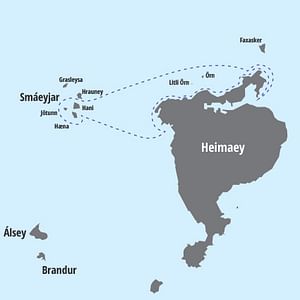 The Small Islands Tirp is our most popular trip. We sail west of Heimaey. We'll see the largest rock formated auk's head in the world., the cannon ball from the Turkish abduction in 1627 and the largest elephant head in the world in Dalfjall.

We'll also visit four sea caves. Among them Klettshellir, which is mostly known for its perfect acoustics and Kafhellir in the island Hæna.
Of course we'll also sial by all the small islands, which are inhabited by puffins, auks, fulmars, seagulls, eiders and seals. We might even get lucky and see whales during our trip.