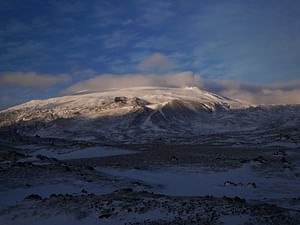 Try out glacier hiking / mountaineering on one of the most famous glaciers in Iceland. Snæfellsjökull is a perfect place to hike if you want a few people around you. Starting from Reykjavík the drive to Snæfellsnes takes about 3 hours with a few stops on the way.
First stop is in Borgarnes at a gas station (WC break) it's also good to grab a coffee or some snacks if you need. From Borgarnes to Gerðuberg is a 40-minute drive with a nice view on the way. Gerðuberg are beautiful basalt columns. From Gerðuberg to Ölkeldu is a 30 minutes' drive. Ölkelda is a mineral spring with carbonated water. Mineral springs are said to have healing powers, so feel free to take a sip. The farmhouse is named Ölkelda which means mineral spring in Icelandic. Our next stop is Snæfellsjökull which is 40 minutes from Ölkelda to the glacier parking lot.
At the parking lot we are going to prepare you with the right gear for the hike. The hike takes from 6 to 8 hours in total, approaching the glacier takes 40-60 min. When we get to the edge of the glacier, we'll put on the glacier gear, crampons, harness, and ropes. The summit of Snæfellsjökull is at 1446m above sea level. Usually we stop in 1418 meters, but we can go to the true summit 1446m, but it is a steep slope on top of rock and ice peak.
Lunch break on the summit is nice to enjoy the view while you eat something, on a clear day the view of the peninsula is stunning, but of course we can't promise a clear day. After lunch we must start the descent from the summit and go back to the car.
The Snæfellsnes is a peninsula situated to the west of Borgarfjörður in western Iceland. It has been named Iceland in Miniature because many national sights can be found in the area, including the Snæfellsjökull, regarded as one of the symbols of Iceland. With its height of 1446m, it is the highest mountain on the peninsula and has a glacier at its peak. The volcano can be seen on clear days from Reykjavík, about 120km. The mountain is also known as the setting of the novel Journey to the Center of the Earth by the French author Jules Verne. The area surrounding Snæfellsjökull has been designated one of the four National Parks by the government of Iceland. The peninsula is one of the main settings in the Laxdœla saga and it was, according to this saga, the birthplace of the first West Norse member of the Varangian Guard, Bolli Bollasson. Other historical people who lived in the area according to the saga include Guðrún Ósvífurdóttir Bolli Þorleiksson and Sorri Goði. Snæfellsjökull is a 700,000-year-old glacier-capped stratovolcano in western Iceland the name of the mountain is Snæfell, but it is normally called "Snæfellsjökull" to distinguish it from two other mountains with this name. It is situated on the most western part of the Snæfellsnes peninsula in Iceland. Sometimes it may be seen from the city