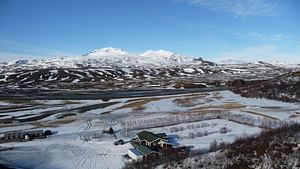 Tindfjallajökull is a perfect hike/mountaineering for people that wan't a nice day of hiking on the high glacier.
The view on the summit is amazing , you can see in to the valley Þórsmörk and the famus glacier Eyjafjallajökull that erupdid 2010.And in the south you can see south coast and Vestmannaeyjar ( Westman Islands )
about Tindfjallajökull.
Tindfjallajökull is a glacier on the soutcost of Iceland . Glacier is a round 19 km2 . Higest peak of Tindfjallajökull is Ýmir 1,464meters and the neighbor peak Ýma 1,448meters. The name Ýmir comes from Nordic mythology the ice giant Ými. Last eruption was 54.000 years a go.